In addition to Marulivo Hotel, we present Casa Pixos stunning apartments. Located in the heart of the town historic centre, these XVI Century dwellings, restored respecting the original building structures, have been turned into four independent apartments with charming hanging gardens and terraces with a breathtaking view of the sea.

The apartments: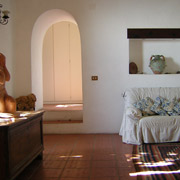 Bougainvillea is an apartment on three floors and the biggest of the three which may host up to six guests. Decorated with taste, its charm has been enriched by wonderful sculptures realized by the former landlord. In addition to the master bedroom, the apartment is composed of a second room with a bunk bed, a living room with a sofa bed and two bathrooms. The house set pieces can be found in the kitchen, with the ancient fireplace, and in the terrace with the breathtaking view overlooking Pisciotta's seaport.
The apartment is supplied with satellite-TV and a Hi-Fi music player.


Glicine, a romantic dwelling which may host up to three guests, has been made out of what used to be the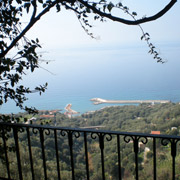 former landlord's sculptingstudio. This apartment, decorated with fancy furniture, is composed of a broad master bedroom with bathroom, a beautiful kitchen with grand panoramic windows and a terrace immersed into the wilderness overlooking crystal-clear sea-water.
The apartment is supplied with a Hi-Fi music player.

Gelso is a delectable master bedroom with private bathroom. Decorated with elegance yet simplicity, it comes with a gracious little veranda under the shade of a huge mulberry tree. Because of its nearby location, it may also be used as annex to the other apartments.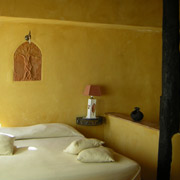 Topazio is located within little distance from the other apartments and may host up to three guests. The rooms are set on three floors giving the apartment a peculiar charm in addition to the huge panoramic windows overlooking the terracotta roofs and the sea. Topazio is composed of a first floor entrance with bathroom, a lovely kitchen located in the mezzanine, and a splendid master bedroom on the upper floor with olive timbers and a balcony.
All the apartments are supplied with heating radiators.