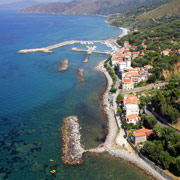 The highest part of a hill, gently sloping towards the sea, Pisciotta: crown makes a mantle of uninterrupted secular majestic olive trees, true monuments of nature. The country keeps intact the urban structure, typically medieval, with the castle on the top and around it, houses, leaned to each other, to form one for the defense by pirates or hostile armies and gangs.

The origin of the country is likely to take place by the year 900, when, Saracens destroyed by the ancient Pixus, some of its inhabitants fled here and established a small Pixus, namely Pixoctum. Pisciotta is already feud in the twelfth century will belong to alia Caracciolo and then to Sanseverino. In 1522 began the construction of the Franciscan monastery, which remains today the bell tower epochi other ruins. The feud was bought in 1554 by Don Sancio Martinez de Leyna, captain general of the galleys of the Kingdom of Naples, which began construction of the towers to protect the coastal territory after the Turks. In 1602 are lords of the Pappacoda Pisciotta, who held the feud, meanwhile Marchesato now until 1806. It must be in their lacostruzione Palace, built on the ruins of the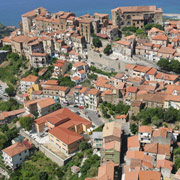 ancient castle, which incorporates part, on the West.
From 1635 to 1639 Bishop Luigi Pappacoda Pisciotta moved to the bishop's seat. In the sixteenth and seventeenth centuries, the country suffers heavy attacks by the Barbary pirates
Turks and subsequently is mainly being targeted by gangs of bandits, among them the famous Among 'Devil. And ''500 the majestic Church, dedicated to the SS. Apostles Peter and Paul, who retains valuable works, including a picture of St. Francis, miraculously escaped the fire set to the convent by the Turks in 1640.
At the beginning of the'700 Pisciotta is the most populous country Cilento: remarkable economy, based mainly on the production of olive oil, but also trade, especially seafarers, taking place from its port, one of the few existing south of Salemo.
Today Pisciotta relies on olive production - the famous olive "pisciottano" - and especially its natural beauty and the exceptionally mild climate, its future.
More informations:
Pisciotta On Line - Comune di Pisciotta
CilentoNelMondo